My arrival in Portland was marked by "torrential downpours." I'm not sure if I arrived in the beginning or middle of the rain, but it lasted for the first week or so that I was here.
There's a character in the Hitchhikers series who is rained on constantly, wherever he goes. I'm not so unlucky, but I swear every time I travel, it rains. Even in the most unlikely of places, like Burning Man.
Portland is great. I'm working as a file clerk temporarily while I look for a permanent job. Mark and I just applied for a duplex in northeast Portland, and we're looking at some other places as well.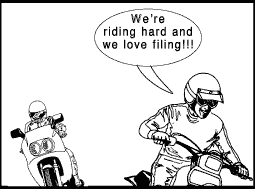 Mark, Mike, and I are planning a local microzine. And I'm working on a comic with Danny Chaoflux.
And, wow, it's a new year.
2005 was an incredible year for me. So much happened I won't go into it here. It was full of highs and lows and I really got my shit together in a lot of ways.
Last year I tried a experiment on Technoccult based on a blog post from here. Maybe it worked too well. I had hoped for some sort of happy and quirky life, and maybe I got that but Mike Allred has the tendency to do some very dark work, and PWEI has some darker songs like "Wake Up, Time to Die."
This year I'm saying "fuck it": I want my life to be written by ME. It's time to put my money where my mouth is and try writing my own narrative, rather than just trying to edit it. We'll see what happens. So this year my life is written by me, illustrated by Danny Chaoflux, with a soundtrack by a whole slew of musicians including: Pop Will Eat Itself, Gold Chains, Massive Attack, the Dandy Warhols, and She Wants Revenge. It will be the best year yet.
I decided to try this bit of magic here again instead of Technoccult this year. Technoccult has evolved into a hypersigil, but it still remains in essence a scrapbook. This blog was always started as a personality construction hypersigil, though I didn't consciously realize what I was doing with it when I started it.
So that's me. New year, new city, new projects.
What are you up to?